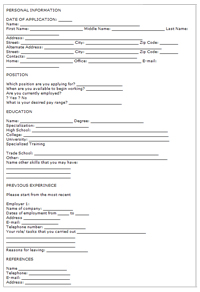 Admission Forms

Admission forms are editable to use to your needs. Choose from interactive admission forms for business or teachers.


School Admission Form

Admission forms are commonly used by colleges and schools to gather information about their future students. The admission form will show the name of the school, along with the address, phone number and contact information. It will ask personal questions of it's students such as prior educational experience (the name of the facility, the time attended and if you received any certifications). They might want to know about your family , how you heard about them, whether you are male or female, what you are wanting to study and when you want to attend. Having this information on hand helps them to better help you. Some admission forms require a processing fee.

A copy of a school admission form is provided at the link below:
http://www.riversidegardenschool.com/AdmissionForm.html


Hospital Admission Form

Another type of admission form is used in healthcare. When admitting a patient into the hospital these forms are crucial to their well being. Questions such as address , insurance information , age , marital status , height , weight and allergies are found on medical admission forms. Primary symptoms, medications and previous treatments for the current issue are found on an admission form. Emergency contacts , employment information and religious preferences are also found on medical admission forms.

Below is a hospital admission form for psychiatric treatment:
http://www.tmhp.com/HTMLmanuals/TMPPM/2008/2008%20TMPPM-51-47.html


Pre Admission Form

Certain hospitals require you to fill out a pre admission form in instances such as maternity stays or surgeries. These pre admission forms expedite your service by allowing the facility to already have your personal information on file. Some of the information that is asked on these admission forms are:
date of service
attending physician
if you've ever been treated at this particular facility
insurance information
whether or not you are an organ or tissue donor
An example of a pre admission form is provided at the addresses below:
http://stmh.org/admission/maternity_pre-admission.html
http://www.docstoc.com/docs/69102767/pre-admission-form---PreAdmission-Form-Shands-Healthcare-at-the

Disclaimer: Be aware that some of these sample form letters have legal, financial, or other implications. If you are not sure about the use of any form letter, consult with a legal professional first.






Application Forms
Admission Form
Affidavit Form
Custom Forms
Receipt Template
Power of Attorney Template
Payment Receipt
Receipt Form
Printable Receipts
Form Letters
Free Estimate Forms
Release Form
Evaluation Form
Sample Application Form
Form Example
Registration Forms
Free Forms
Online Forms
Job Application Form
Example Letters
Teachers Form Letters
Home