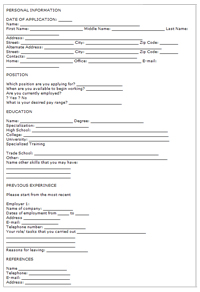 Receipt Forms

Get receipt forms templates that are editable to use to your needs. Choose from interactive receipt forms.

Receipt forms are used as proof of purchase by both customer and business owners alike. It is important documentation proving services or product purchased , who paid money or who received it - along with the amount of the transaction , a way to finalize a business transaction, it also serves at a reminder of the date of the transaction and proof of payment if for any case an issue arises with the transaction.


Office Forms

Office forms are documents used to manage an extensive variety of information, statistics or data. They usually contain blank fields where the user inserts important information depending on the type of office document they are using. These documents have a wide range of uses. From applying for a job , purchasing an item or even placing an order , office forms are essential. They can be used to clear up disputes concerning purchases. Office forms are also used in formalization and evidential scenarios.


Invoice Forms

Invoice forms are used by business to keep track of and do a variety of things that are important to keeping the business running smoothly. These invoice forms indicate things such as hours, rates, monies being transferred , quantities of products of services being purchased and product descriptions. It is also necessary for the invoice forms to include such information as the billing and shipping address of the client. Invoice numbers and cost breakdowns ( cost of parts , labor and tax) are used to calculate profits beget by a certain transaction.


Sample Receipt Form

A receipt is a record given at the time of purchase that lists items bought, services rendered, amount of transaction , including all adjustments and taxes and the payment method used. Sometimes coupons, details about warranty and returns or special offers are listed on receipts. Receipts come in printed and hand written. Hand written is more commonly used in transactions where there isn't a cash register involved i.e. rent payment. This sample receipt form gives you an idea of what you would find on a receipt.

PAYMENT BREAKDOWN

Cash Amount: ____________________________

Check Amount: __________________________

Check No: ______________________________

Being Payment of: _________________________

Bank: ___________________________________

Credit Card Amount: _______________________

CC No: ___________________________________

Card Name: _______________________________

SIGNATURE: _______________________________

Also see the related articles:
Payment Receipt
Receipt Template
Printable Receipts







Application Forms
Admission Form
Affidavit Form
Custom Forms
Receipt Template
Power of Attorney Template
Payment Receipt
Receipt Form
Printable Receipts
Form Letters
Free Estimate Forms
Release Form
Evaluation Form
Sample Application Form
Form Example
Registration Forms
Free Forms
Online Forms
Job Application Form
Example Letters
Teachers Form Letters
Home