Baby Ink Footprint
Here is a complete guide to Baby Ink Footprints and Baby Ink Keepsakes.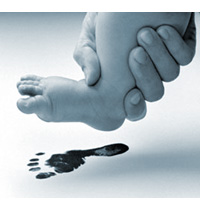 Making a Baby Ink Footprint Keepsake of your new infant is an experience that the entire family will want to be a part of and an event that you will want to get the camera ready for. Preserve a piece of your baby's first months forever with Baby Ink Footprint and Handprint kits that you make yourself at home. There are many easy do-it-yourself baby ink footprint kits of various skill levels available. These make great gifts for Grandparents or the expecting couple. For your baby's comfort and safety, make sure you to find an ink that is non-toxic and washes off easily.


Baby Ink Footprint Kits:
Below is list of online retailers of Baby Ink Footprint Kits.

---
Little Keepsakes Baby Ink Footprint

Make a memory of those little feet with Little Keepsakes kit for Baby Ink Footprint. Preserve your baby's hand or footprints safely at home with their non-toxic, infant safe ink print kits. Perfect for your baby books, photo albums, framed pictures and birth announcements. These easy to use ink plates pick up every fine detail of your baby's foot print. They are hospital quality. Appy more link to make dark prints and less for lighter prints. Can be used to track your child as they grow!

Cleanup is a breeze with a little baby oil and a baby wipe or just use mild soap and water. Your little one grows up fast, preserve the moment in time when so you and your child can cherish them for a lifetime. Regular stamp ink pads or messy paints can stain your newborn's delicate skin. Order a Little Keepsakes Baby Ink Footprin today for a memory of a lifetime.

Also available in their Basic Ink Print kit and new Deluxe Baby-Safe Ink Print Kit.

Email: info@littlekeepsakes.com


http://www.littlekeepsakes.com




---
Custom Identification Kits for Baby Ink Footprint

Are you looking for a easy online business? Try selling Custom Identification/Baby Ink Footprint Kits. These Footprint Identification and DNA Kits are custom printed with your company name, logo and contact information on them so starting your new business is easy.
The Footprint Identification and DNA Kits include desingated areas for photographs, foot imprints, a DNA sample, dental, physical, medical, records and all related important personal information. The kit folds into three parts. The dimensions of the kit are 5.5" x 11" when it is completely open. Each Footprint Identification Kit is equipped with a non toxic 3" x 5" ink strip for the footprints, two dna saliva swabs and a dna collection baggie, along with a throuough guide on how use the kit. The Footprint Kits are simple and fun to use but more importantly they are vitally important to help find a missing child.

Email: sales@child-identification-products.com


http://www.child-identification-products.com/custom-baby-footprint-kits.html




---
Colts-N-Kids Baby Ink Footprint

Savor the experience of your newborn baby and his or her little and hands and feet. Little ones grow fast so you will want to capture the memories of them in many ways… Taking imprints of your baby's hands and feet help preserve the memory for all time. Colts-N-Kids Baby Ink Footprint kits are effortless to use so preserving your baby's footprints and handprints is simple. The imprints can be set on all styles of paper. This baby footprint and handprint kit is perfect to use in baby books, scrapbooks or in pictured frames. Framed baby handprint and footprint imprints are great presents for family and friends.

This imprint kit is amazing because you do not come in direct contact with the ink. The ink kit presents superior quality imprints without the ink ever touching the mother or the baby. The imprint kit has a small amount of ink on the underside so when the baby's foot or hand is pushed on the sanitary surface of the film, the inked side makes the handprint or footprint. No hassles, no mess.

Email: info@colts-n-kids.com


http://www.colts-n-kids.com/footprintkit.html




---
TJ's Kids Baby Ink Footprint

Are you looking for a great way to capture the memory of how small your newborn is? Take a handprint or footprint imprint to preserve the memory of your child. TJ's Kids Baby Ink Footprint kit is a terrific gift for an aunt or grandparent. Each kit is made for either one hand or one foot and is completely non-toxic. Imp Prints Company opened in 1998 providing its customers with quality acid-free, non-toxic hand and footprint kits that are uncomplicated and enjoyable. All hand and footprint kits are offered in pink, purple, and baby blue.



http://www.tjskids.com




---
Baby Heirlooms Baby Ink Footprint

Conserve the memories of your little one by capturing the imprint of his or hers tiny footprint and saving his or hers first pair of tiny shoes. This special gift includes a "no-mess ink pad" to take an imprint of the baby's footprint. The footprint goes on the cover of a beautiful box and your baby's first pair of shoes fit appropriately inside the designer box. The box is available in pastel colors with areas left bland so you may individualize the box with your child's name and date. The blue box depicts a train and the pink one has beautiful flowers on it. The size of the box is 6" x 6" x 3¼ " Baby shoes are not included in the Baby Heirlooms Baby Ink Footprint Kit.

Email: help@babyheirlooms.com


http://www.babyheirlooms.com/product/footprint_kit_box.cfm




---
Target's Baby Ink Footprint

Shop at Target for the best baby gifts offered at great prices. Target has a Baby's Hand and Footprint Kit that makes a perfect gift. With this Hand and Footprint kit the memory of that special baby will last forever. The hand and footprint kit includes a non-toxic, washable ink pad, round papers and corresponding frames for the imprints. Also included are pink or blue ribbon hangers. Targets Baby Ink Footprint Kit is a special gift to give or receive.



http://www.target.com/gp/detail.html/601-8214357-4389730?_encoding=UTF8&frombrowse=1&asin=B000B78SYM




---
Cherry Lane Keepsakes Birth Announcements Kit with Baby Ink Footprint

The Cherry Lane Keepsakes Birth Announcements Kit with Baby Ink Footprint provides you to opportunity to capture a baby's small footprint. Next to the special baby's footprint is a place for the special baby's picture. Envelopes are included, so you can send the baby announcement/ footprint to all the special people in your life. The footprint kit is Non-toxic and effortless to use. The baby's skin does not touch the ink at all so taking the baby's footprint has never been made more simple. The Cherry Lane Keepsakes Birth Announcements Kit with Baby Ink Footprint includes: 10 cards and envelopes, 1 print applicator with protective case, 12 footprint cards, 2 perforated name tab sheets and a CD with easy to understand directions.

Phone: Toll Free 1-800-404-0145


http://www.cherrylanecollection.com/pear_birthannouncements.htm




---
Related Baby Ink Footprint Topics:
Baby Ink Imprints Kit
Baby Footprint Ink Kit
Baby Ink Footprint Kit
Baby Ink Hand and Footprint Kit
Baby Ink Footprint Keepsake
Guide to Baby Ink Footprints
Baby Footprint Poem
Baby Ink Footprint Crafts
Baby Footprint